Have a concern about a report card or assessment?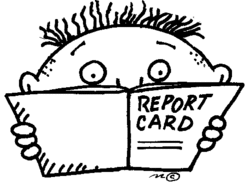 Protocol for Concerns Regarding Evaluation Results
Students should first discuss the issue with the teacher. If more clarification is needed, parents should contact the teacher to discuss the concern. If students or parents are not satisfied following the conversation with a teacher (including the Department Head), they should contact the Vice-Principal. The school's administration will make every effort to resolve the situation with all parties involved.

The following is a list of provisions to help students and parents/guardians when concerns arise as part of the HRCE'S Parent Concern Protocol
Students should contact the teacher and discuss the grade immediately following the return of the assessment/evaluation
If more formal clarification is needed, the parent/guardian or student should contact the teacher directly in writing
The teacher will respond to this communication either in writing or by phone, in a timely manner after receiving the request
The teacher will document the conversation or meeting
If unresolved, the matter should be referred to the Department Head by the student and/or parent/guardian
The Department Head will then meet with the parties involved to resolve the situation.
If, for any reason, the matter remains unresolved, it should be referred to the Vice Principal or Principal.